Archive for the 'Mini Retreats' Category
When we feel joy, we feel most alive! When you notice the small things that bring you joy and consciously create and receive moments of joy in your daily life, your experience of life will change for the better.
Jacqueline Kelm, fellow-author and coach, has developed an easy 3-step process to achieve just that. In her book, The Joy of Appreciative Living, Kelm shares her personal story and the success stories of the participants of her "joy study".  An engineer by training, Jackie shares her research of joy and happiness and backs her personal discoveries and the results of her joy study with the newest scientific discoveries in the field of positive psychology.
She addresses the misconceptions that keep so many of us chasing happiness in all the wrong places. The Hollywood dream of the house by the ocean, the new shiny car and the diamond ring don't compare with the simple treasures in life. A smile exchanged on the sidewalk with a stranger, laughter shared with friends, smelling the fresh air after a rainstorm, to name just a few.
Kelm's honest and personal style make it easy for the reader to follow her guidance. I could feel the joy and enthusiasm for her work in every page. I loved reading the quotes from the study participants filled with gratitude for the difference the 3 steps to joy made in their lives. Here's one of my favourite quotes: "Doing the joy exercises is like the discipline of cleaning off your joy glasses. It doesn't take that much time to clean them off." Their lives have transformed for the better and they are experiencing a greater level of joy even 6 months after completing the 28-day commitment of following her 3 easy steps.
Once you have read The Joy of Appreciative Living you will naturally incorporate Jackie's 3 easy steps to joy:
1. Write down three things you appreciate every morning. As you write them down, let yourself feel the joy and gratitude.
2. Answer the daily question: "What one thing can I do today, no matter how small, to increase my joy?"
3. Once a week, spend fifteen minutes envisioning your ideal, joy-filled life.
Please share your experience with this simple, yet powerful technique on my blog.
Last weekend I had a chance to review all the moments I had captured with my camera over the last six months. What a joy to revisit so many wonderful memories!
I am deeply grateful for all the love in my life and the beautiful sanctuary I live in. This picture shows a special place on the shore just minutes away from my home. I go there often. Each time it brings me right back to what matters most.
Reflecting on my sanctuary, I realize that I have sought out special places in nature for renewal in all the places I have ever lived. Even in the bustling city of Paris, I managed to find a nearby park, where I could reconnect with myself and nature.
I encourage you to seek out a special place in your neighbourhood where you can go to refresh and renew yourself.
Enjoy!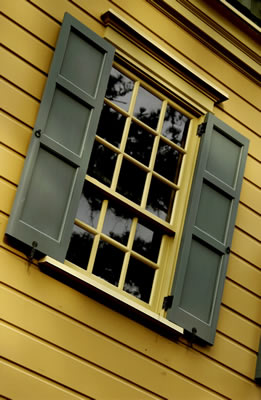 Last spring, a Robin flew against my window in the morning, luckily the Robin survived, but strangely he didn't learn from its painful experience. The Robin immediately flew against the window again and again and again.I was truly puzzled by this little bird's behaviour. I searched the Internet for the answer and found that Robins are very territorial birds. When a Robin sees another Robin in its breeding or feeding territory, it instinctively attacks the other bird. My window acted as a mirror to the Robin. As the Robin saw his reflection, he interpreted this as an intruder and began attacking to chase the intruder away. The Robin's instinct to protect his territory was far greater than his pain memory.As recommended on several websites, I put masking tape on the outside of the window, taking away the mirror effect for the bird. For the rest of the spring season the Robins around my home were safe.The phenomenon of head-bonking is also quite common in humans. Most of us have situations that trigger us. Just like Robins we instinctively react to perceived threats only to notice minutes later that we have once again bonked our head and are feeling the painful consequences. Fortunately, once aware of our triggers, we can put up some metaphorical masking tape to help us stop bonking our heads.
A more rewarding way to be with your triggers: 
Think of a situation or behaviour that makes you angry, aggressive, defensive or frustrated.
Once you are aware of the trigger, take a look at what you would most want in this situation. Do you want to be respected? Do you want to be left alone? Do you want to feel connected? Do you want to be understood or appreciated? Name and acknowledge what you most want to receive.
Give that which you most want to receive to yourself. Ask yourself a question, such as: "What would I do, if I really respected myself today?" Find as many answers to this question as possible and act on the most appealing one.
Decide how you want to respond next time you encounter the situation or behaviour that triggers you. Taking a Mini-Retreat is a great way to start!
If you forget in the heat of the moment, remember tomorrow is a new day and a new opportunity to stop bonking your head.
If a robin has chosen your backyard as his territory, you now know how to save him from bonking his head.
I fasted for a few days last spring. It was an amazing experience of slowing down and becoming more sensitive. While I wasn't eating food, I felt nourished in so many ways by the smells and sights of spring all around: the fine scent of the cherry blossom, the beauty of the fresh green leaves emerging everywhere. When I broke my fast with an apple, the taste was indescribably wonderful, juicy, sweet and tart. It felt as if I was eating an apple for the very first time in my life.
Today I invite you to experience a fresh perspective on your world – not by fasting, but by engaging in a fun Mini-Retreat:
Notice a thought that is on your mind, maybe an issue you need to deal with, a relationship that needs your attention or a project that seems to drag on forever. Take a moment to write this issue down and let it go for now as you put the piece of paper aside.
Look around in the room and pick up an ordinary object such as a paper clip, a stapler, a pen, a book, or a pair of scissors. In the daily grind of life we tend to assume we know and understand the world around us. With the object in your hand, imagine you didn't know what this object was. Imagine you were an alien, who just descended to Earth and this object was completely novel to you.
Take a moment to feel the texture and shape. Notice the temperature. Turn the object upside down.
Come up with as many uses for this object as you can. Once you have exhausted your own imagination, imagine a three-year-old looking at this object. This will help you come up with a few more ideas of what this thing might be used for.
Now, take the piece of paper with your issue and read it anew.
What might you do, if you didn't know anything about it?
What ideas emerge when you looked at it with the same freshness that you just applied to the random object in your room?
What are the possibilities you discover from this fresh perspective?
Note all your insights down and act on the one that intrigues you most. Enjoy!
To learn more about Mini-Retreats, please join me for one of the upcoming Mini-Retreat courses in Victoria, BC:
When: Saturday, February 23, 2013, 2pm-3:30pm
Where: Oaklands Community Centre, 2629 Victor Street, Victoria, BC
To register call: 250-370-9101
&
When: Thursday, February 28, 7pm-8:30pm
Where: Monterey Recreation Centre, 1442 Monterey Ave, Victoria, BC
To register call: 250-370-7300
Investment: $39 (includes the book, The Mini-Retreat Solution)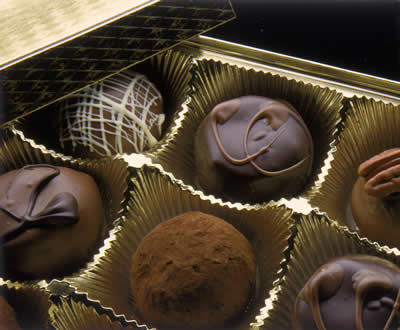 I love chocolate, especially dark chocolate. I love the way it melts in my mouth, I love its sweet and bitter taste. There is just nothing quite like it.
Unfortunately I have become more and more sensitive to the caffeine contained in chocolate. It gives me the jitters, and when I have it too late in the afternoon, it prevents me from sleeping well at night.
Therefore, I have tried very hard to reduce my chocolate consumption. I tried eating other treats. However, nothing comes even close to chocolate for me. I tried not buying chocolate with the rational: "When I don't have it in the house, I can't succumb to it." I tried minimizing my consumption to one piece only. This strategy is probably the hardest. Chocolate tastes so good, it always leaves me wanting more.
Recently I read "Perfect Love Imperfect Relationships" by John Welwood in which he discusses how to move beyond addictive behaviours in romantic relationships. He asserts that we often see our beloved as the only source of our happiness. It dawned on me that the addictive behaviour he was talking about may also apply to my romance with chocolate. What if the remedies he suggests could help me with my chocolate craving?
The next time I felt a craving for chocolate, I focused as Welwood suggests on feeling the craving rather than focusing on the object of my craving: chocolate. I experienced the sweetest sensation. I felt warm, vibrant and alive. My whole body felt very open and receptive. The feeling itself was far better than chocolate; a strong statement coming from a chocolate lover. By reaching for the box of chocolate, I had been avoiding feeling my craving all along. As I discovered, the feeling of craving itself is quite delicious, nothing to be afraid of.
How to make friends with your cravings:
Whatever your soft spot, next time you crave it, focus on the sensation of craving in your body instead of the object of your craving.
Be curious about your sensations and appreciate them for what they are. Open yourself to feeling them fully.
Enjoy your renewed energy, sense of freedom and all the wonderful sensations your craving conjures up in your body.
As you befriend your craving as a natural part of you, the objects of your craving loose their power. This is not an absolute cure, you may still occasionally indulge in the objects of your craving. I still eat chocolate occasionally. However, each time I do, I know that I am shortchanging myself. Savouring the sensation of craving in my body is far more satisfying than chocolate.
Please share your experience of making friends with your craving on my blog.
Thank you in advance! I know, your story will inspire others!
Have you ever noticed that you feel more engaged and alive in certain places than in others?
A beautiful forest, a rushing river or a calm lake all bring me to my inner place of aliveness. I feel connected, calm and at home when I am in nature. One could assume that nature is the place where all people feel most alive and at home, however this is far from the truth.
Jen feels most alive when she has just arrived at an exotic marketplace, it is hot, all kinds of smells waft through the air, the market is filled with crowds of people speaking, shouting and chanting in languages she doesn't understand. Rebecca feels most alive when she is on a racetrack with the engine of her car roaring and the wind blowing in her hair. Greg feels most alive when he is riding the wave on his surfboard on a sunny day.
Find your alive place:
Get into a comfortable position, take a moment to relax, read the following points and then allow your eyes to close and take yourself on an inner journey to your most alive place.
In your minds eye travel to a time in your life when you felt fully engaged and awake.
As you arrive at this time and place, take a moment to notice where you are.
What are the colours and shapes of this place?
What are the smells of this place?
What are the sounds of this place?
What is happening around you?
What are you doing?
How do you feel? Take a moment to notice the sensations in your body.
Simply enjoy being here, allow yourself to savour this experience.
Then allow the experience to fade away, knowing that you can always revisit this alive place in the future. This place is always there  for you to enjoy.
Once you have identified your alive place, you can enjoy frequent visits to this place in your imagination. It will always give you a boost of energy.
Friendly reminders to visit your alive place:
Think of a symbol that triggers the memory of your alive place. Rebecca chose a miniature race car, Jen chose a little spice jar and Greg chose an image of a wave lit by sunlight. I simply look out of the window of my office into the branches of a beautiful oak tree. It instantly brings me to my alive place.
What symbol will help you remember to visit your alive place? Put your symbol in strategic places. It will trigger your memory whenever you need a boost of energy.
Enjoy!
Receiving a relaxing massage is one of my favourite treats and I had the pleasure of treating myself for a couple of relaxing massages over the holiday season. A friend had recommended a massage therapist to me named Sandra who works out of a massage therapy clinic in Victoria. I had seen her a couple of times throughout the year and always enjoyed her deeply relaxing massages. When I told her that I wanted to treat myself to massages over the holiday season, she told me that she practiced part-time out of her home and was open on some days during the holiday season. As it turned out she lives a few blocks away from my home. I was excited about the prospect of walking to and from my massage treatments and looking forward to receiving my special holiday massages.
As I walked towards Sandra's home for my first treatment during the holiday season, I was filled with joyful anticipation. Sandra showed me the massage room and asked me to get changed. Her two cats had snuck into the room with us. I greeted them and Sandra said the cats could stay inside the treatment room during my massage, if I would like it. She mentioned that many of her patients enjoy the cats' company as they usually curl up on her patients' legs and feet while she massages their backs. I responded with a resounding YES. Sandra let me get changed while my two new friends curled up on the massage table. What followed was a very relaxing massage with two purring four legged cats resting on my legs. I thoroughly enjoyed the massage and was able to relax even more deeply in the company of the two cats.
This experience reminded me just how beneficial and soothing the relaxed energy of cats is for our human nervous system. There is a reason why one of my favourite Mini-Retreat's is the cat-walk.
If you are the lucky owner of a cat, soak up the relaxing energy more consciously and often.
If you don't have a cat, pay attention to the cats in your neighbourhood. I always enjoy greeting the cats who cross my path when I am out for a walk. It is a joy to feel their purr, as they rub against my legs. It makes my day everytime.
Enjoy the grounding and relaxed feeling that comes from taking the cat-walk Mini-Retreat.
Please share your purrfect Mini-Retreats with us on my blog! Thank you so much!
Earlier this month I had the great joy to facilitate the first Mini-Retreat Home Party. On a cold and rainy Sunday afternoon five girlfriends gathered in the beautiful home of the gracious hostess to learn about the power of Mini-Retreats. In an atmosphere of trust and lightness we shared three relaxing, creative, empowering hours.
"I think sometimes everyone feels alone. Today I found out that we all battle the same elements, just in different environments. It's o.k. to take a few moments for yourself. Win-win-win!"
Christina Stewart
The five girlfriends now share this valuable knowledge and will continue supporting each other in making Mini-Retreats a healthy habit. I look forward to facilitating more Mini-Retreat Home Parties in the New Year. To book yours (in Victoria or Vancouver) give me a call at 778-433-5558.
Together we can create a beautiful garden of Mini-Retreat flowers.
It's been two years since I moved to Victoria.  I am very grateful to live in such a beautiful, friendly, relaxed city! I am especially grateful for the sense of community I feel in this city and the communities I have become an active part of, namely The Gettin' Higher Choir and  Qi-Gong community.
It's been three years since I published the award-winning book, The Mini-Retreat Solution. With over 80 ways to relax quickly,  my book helps reduce stress, increase productivity and develop peace of mind, no matter where you are and how busy your life . I am filled with pride and joy when I think about the positive difference The Mini-Retreat Solution is making in so many people's lives!
In celebration of my two year anniversary of living Victoria and my three year anniversary of publishing
The Mini-Retreat Solution
, I want to give back to the community.
What better way is there to strengthen our community than to empower our youth? – I decided to launch a fundraiser for The Power of Hope, the local community project we support with the Gettin' Higher Choir. The Power of Hope delivers arts-based experiential learning programs for teens from diverse cultures and socioeconomic backgrounds who want to take an active role in creating a positive future, develop their leadership skills and build stronger communities.
Between now and December 31st, I will donate $10 of every copy of my book, The Mini-Retreat Solution purchased directly from my website* or in person to The Power of Hope.
My goal is to raise $400, subsidizing one teen from a low-income family to go to camp next summer.
Enjoy contributing to The Power of Hope by buying your own copy or a few copies of The Mini-Retreat Solution today.
Thank you for your support!
*Sorry, purchases through Amazon will not contribute to the fundraiser. You are of course most welcome to purchase with Amazon!
Relaxation is such an essential ingredient for our health and well-being that I like to refer to it as vitamin R. Our body, mind and spirit need rest and relaxation every day to absorb all the other nutrients, release toxins and help our body and mind let go of stress. We need vitamin R to digest everything we learn and achieve throughout the day.
When we forget to relax in the midst of our busy day, our health and well-being suffer. However, in the fast-pace world we live in, it is easy to forget. Here are three ways for you to remember to take your vitamin R daily:
Take a moment to relax as you take your other vitamins and supplements.
Turn all the other vitally important practices such as brushing your teeth, taking a shower, washing your hands and doing the dishes into moments of relaxation. Begin by focusing on your breath as you engage in these mindless activities.
Use any interruptions, such as the ringing of your phone or a knock on the door as reminders to take a deep breath and relax your body.
Enjoy a more relaxed way of life with a healthy daily dose of vitamin R!
Want to learn more about how to integrate relaxation into every day life? – Please join me for one of the upcoming Mini-Retreat courses in Victoria, host a Mini-Retreat Home Party, or buy your own copy of The Mini-Retreat Solution.