Archive for the 'Mini Retreats' Category
What a rewarding experience to once again raise funds for The Power of Hope!
I am especially pleased to see more and more corporate team leaders choose The Mini-Retreat Solution as a gift for their team members. The gift of Mini-Retreats provides a much longer lasting experience than a box of chocolate or a bottle of wine ever could. It also shows that more and more leaders care about their employees well-being and self-care.
The total amount raised through book sales and one Mini-Retreat home party added up to $664.50!
For a little while I was disappointed that I didn't reach my goal of supporting three youth from low income families to go to camp this summer. However, quickly I chose to focus on the amount that was raised, rather than the amount that was "missing" to reach my goal. I remembered that every dollar counts and that even a scholarship for one youth will make a powerful difference. If one youth finds their way to a more empowering, fulfilling future thanks to the funds raised, this fundraiser has been a huge success!
Not to mention the positive difference Mini-Retreats are making in the lives of all the readers who participated in workshops and bought a copy of The Mini-Retreat Solution.
"As a woman in my early sixties, I am at the point in my life where we all experience losses. This year, my mother passed away. We had a wonderful relationship; I miss her. Along with the grieving come changes in how we cope with the usual stresses of life and I have found this difficult. The Mini-Retreat seminar was like a breath of fresh air opening up the "anxiety box" that sometimes envelopes me. It is freeing to take these moments and recharge with positive, calming energy. Thank you for these insights." Teresa Balser
Another opportunity to give to The Power of Hope is just around the corner: The concert of The Gettin' Higher Choir in Victoria!
Please join us at the Alix Golden Hall for this inspiring, uplifting, musical experience. Tickets are available online.
To learn more about The Power of Hope and to make a direct donation, please visit: www.powerofhope.org
The winter season always inspires me to turn inward. As we wait for the light to return, it is a special joy to connect with the light within, with our feelings of gratitude, love and compassion.
Unfortunately, all too often we fill up the holiday season with too many things to do and to buy, which can leave us feeling and acting stressed. A reader of
The Mini-Retreat Solution
, let's call him Bob, sent me a touching story last winter.
When his son (let's call him Tom) was three years old, just before Easter, he said to his Dad "The Easter Bunny is fake, and Santa Claus is too. Grown ups just like to fool little kids."
Bob being a concerned parent thought he could explain Santa as a representation of the Spirit of Christmas. When Tom asked what the Spirit of Christmas was, Bob explained "People are different at Christmas."
Tom thought for a moment and then said "You and Mom are crabbier and always busy at Christmas."
Bob took his son's honest observation to heart and tried to get less wrapped up in the Christmas frenzy. Bob regrets not knowing how to relax quickly during those busy years of working and parenting. However, he is overjoyed to now share Mini-Retreats with his grand kids.
Here are a few of Bob's favourite Mini-Retreats:
The red light relaxer: Bob now enjoys the wait time at red traffic lights to relax, breathe deeply, roll his shoulders back and smile.
Bed time story: Reading bed time stories to his grand children, Bob enjoys connecting with their vivid imagination and the closeness he feels to them.
Be a kid again: Bob enjoys seeing the world through the eyes of his grand children and loves to take part in their discoveries. It always brings him back to the present moment.
 Your loved ones, young and old need and want your presence more than all the presents you could ever buy.
I wish you a joyful, peaceful and relaxing season!
Last week, I facilitated a Mini-Retreat Workshop for a group of women. During the session I shared how to relax without taking any extra time, including at red traffic lights. This is always a popular part of my workshops, as most people feel relieved that they can find ways to relax without taking any extra time.
Oftentimes a red traffic light feels like a stressor, a barrier that keeps you stuck in traffic and prevents you from moving forward. Instead of wasting this time feeling stressed or anxious, turn it into quick time-out to relax.
As I asked the group what they might do to relax while waiting at a red traffic light, I was expecting responses such as:
breathing deeply
rolling your shoulders
stretching your body
smiling
noticing the scenery
All these are very effective ways to relax quickly while waiting for the light to turn green.
However, to my great surprise, one of the participants responded that she would like to do her kegel exercises while waiting at the red light. Because she was fairly soft spoken, not every woman around the circle understood her comment.
A few women to her left giggled, amused by the idea of squeezing their pelvic floor muscles while waiting for the light to turn green. Another participant across the room asked, if giggling had been suggested as a way to relax at red lights. Now the entire group burst out laughing, as we all imagined doing kegel exercises and giggling at the same time. Together we coined a new term for this Mini-Retreat: 'kegel-giggles.'
Kegel exercises are indeed a great Mini-Retreat in itself and very good for your pelvic health. You can do them lying, standing or seated. Because they are so versatile, they are indeed a perfect Mini-Retreat, while you are waiting at a red traffic light. If you have never done them, this short video  will teach you how to relax while strengthening your pelvic floor muscles.
When we wrapped up the morning workshop, I invited each of the women to share the gem they were taking away from the session. Several participants said that they were grateful to learn how to relax without taking a whole lot of time. A few women commented that they now had a whole new appreciation for red traffic lights. They were looking forward to red traffic lights as opportunities to practicing 'kegel-giggles.'
Mini-Retreats are all about having fun and not taking life so seriously. When we lighten up, even just for moments, we naturally relax.
Please share your ideas on how to relax while waiting at traffic lights on my blog. Your comments will inspire other readers to tap into their creativity and receive the gift of relaxation while waiting for the light to turn green.
One of the wonderful things about taking Mini-Retreats is that everyone around you benefits in many ways. Unfortunately many people, especially women, still feel selfish and guilty when taking moments to relax. My mission is to help you and your friends bust these limiting beliefs and make self-care a joyful, invigorating, daily experience that sends ripples of relaxation to the people around you and out into the community.
Whether you take a deep breath, stretch your body, laugh out loud or wiggle your toes, relaxing moments sprinkled throughout your day will create a positive ripple effect:
You will feel more energized, happier and more creative.
Your nights will be more restful, your days more joyful.
Mini-Retreats help you make better decisions, communicate more effectively and be more present.
Last but not least taking Mini-Retreats is a whole lot of fun!
This fall I will donate half of the proceeds from all sales of my book, The Mini-Retreat Solution as well as from all Mini-Retreat Home Parties to The Power of Hope, a local charity dedicated to empowering youth through the arts.
What a gratifying experience to raise funds for The Power of Hope last fall and support two teens from low-income families to participate in camp this summer. I am excited to launch this fall's fundraiser for Hope and Empowerment. With your help we can create an even greater ripple into the community this year.
My goal this fall is to support three youth from low-income families to participate in next year's summer camp.
Here's how you can help create a positive ripple of hope and empowerment in our community while sprinkling joy and ease into your life and the lives of your friends and family:
Host a Mini-Retreat Home Party
for the Benefit of The Power of Hope
A Mini-Retreat Home Party is a workshop on how to reduce stress and increase enjoyment. In the comfort of your home, surrounded by your circle of friends you will:
Learn how to reduce stress and relax quickly anytime, anywhere.
Let go of guilt and other barriers that stop you from relaxing.
Build a support network to help each other integrate self-care into every day.
Contribute towards hope and empowerment of local youth.
To host a Mini-Retreat Home Party, simply give me a call at 778-433-5558.
As host/ess, you participate for FREE and receive a special gift!
"Save your sanity and take a break from all that pressure. Julia James presents a comprehensive and concrete menu of peaceful Mini-Retreats." Debbie Mandel, author of Addicted to Stress
With over 80 different ways to relax yourself and refresh your energy. The Mini-Retreat Solution will show you how to weave moments of deep relaxation into your daily life – no matter how busy you are.
"If you're marching toward anxiety and burnout, Julia James offers some wise advice: Retreat! A 60-second Mini-Retreat can spell the difference between stress and success!"
Phil Bolsta, author of Sixty Seconds – One Moment Changes Everything
"The Mini-Retreat Solution teaches you how to recharge yourself,
so that you can give with abundance."
Azim Jamal, # 1 Amazon bestselling co-author of The Power of Giving
Mini-Retreats have helped thousands of people learn how to reduce stress, increase productivity and develop peace of mind. This is your chance to join them… what are you waiting for?
To order copies of The Mini-Retreat Solution, simply call me at 778-433-5558.
*All direct sales (in person or via direct shipment from my office) will contribute to the fundraiser! You are most welcome to purchase with Amazon, however those sales will not contribute to the fundraiser!
What a treat to share Mini-Retreats with Katherine Lazaruk and her clients at her beautiful new office location in downtown Vancouver last Friday!
In the cozy space of ICU Image Consulting, six of Katherine's most valued clients gathered to learn how to reduce stress quickly in the midst of their busy lives. Often taking time for self-care seems like one more thing to do on your already long to-do-list.
With Mini-Retreats, relaxation becomes a fun part of every day life that invigorates you throughout the day and doesn't take any extra time. Sheila surprised herself in a good way: "It was interesting to see that it didn't take a lot of effort to relax – it's just the thought of doing it seemed taxing. It is easy to take time once you know how – and Julia can show you."
Katherine's clients now feel empowered to incorporate Mini-Retreats into their everyday life. "Great techniques that I can incorporate daily. I was really impressed by the results of the exercises we did this evening." says Julie.
We had so much fun creating a Mini-Retreat flower together. Each participant created a petal as a reminder to take good care of herself, especially when the stress level rises. One petal encourages to "tend the garden," another reassures "you are enough, you are beautiful, you are a gift" and yet another brings you back to the essentials "just breathe, just BE." Together we created a goofy face for the flower. While Katherine's clients learned how to reduce stress quickly, they are also a lot of FUN!
Each participant walked away feeling empowered to take good care of herself. As Cecilia Tsang shared "Julia's Mini-Retreat ideas are amazing – really helpful!"  Angela Dean said: "Today was a great reminder of staying present and connected. I love these retreats and value the time you gave us today."   Annette Maxwell sums it up nicely: "The session was a great reminder about the benefits of self care."
Katherine Lazaruk from ICU Image Consulting was very satisfied with the success of the first workshop held in her new office location: "As always, Julia is prepared, present and personal. Mini-Retreats are so valuable for busy professionals. I'm so happy to introduce her to my most valued clients." 
Introduce your clients to a fun way to reduce stress quickly! Simply give me a call at 1-888-234-3814, I look forward to teaching you and your clients how to reduce stress quickly. Your group will come away invigorated and thankful for your initiative.
Do you remember the last time you savoured a meal, a piece of fine chocolate or a delicious smoothie? – Your mouth was watering, your taste buds rejoicing. Maybe your mouth is watering now, as you recall this joyful memory.
What if we could experience everything in life with the same rich, delicious intensity?
The good news is we can!
The bad news is we are pre-occupied most of the time: a worry, a thought, a distraction. Therefore, we don't savour life like we savour a special treat on those rare occasions. However, you can choose to savour life everyday a little bit more. Some call it mindfulness meditation. It is a delicious way of becoming present right here, right now.
Begin with your breath:
As you breathe in receive this breath of fresh air, as if you were drinking a delicious smoothie.
As you breathe out enjoy the warmth of your breath.
As you breathe in enjoy the feeling of your belly rising.
As you breathe out enjoy the feeling of your belly relaxing.
One Mini-Retreat at a time you can savour all of life's experiences just like you would the sight of a beautiful piece of art, the fragrance of a flower, the sound of a child's laughter.
As you open yourself to savour, you really let life in. You allow all your cells to enjoy tastes, smells, sights and sounds.
Whenever you feel a little drained, begin by savouring one breath. This will help you reconnect with life, feeling the energy flow through you once again.  The great news is that mindfulness meditation when savoured in small, delicious doses, doesn't take any extra time. Enjoy!
During a recent Mini-Retreat Home Party we talked about the physical impact of stress on our bodies. For some it manifests as tightness in the shoulders and neck, for others it feels as if their stomach contracts into a tight knot, yet others feel jittery as if they had too much coffee.
No matter what your physical responses to stress, they are blessings in disguise. It is important to pay attention to your body's internal alarm system and respond by giving your body what it most urgently needs: relaxation.
Easier said than done!
Many of us have a hard time relaxing at a yoga class let alone in the midst of a stressful work day.
That's why I developed Mini-Retreats, wrote The Mini-Retreat Solution and facilitate Mini-Retreat Home Parties. Mini-Retreats are fun techniques that can be learned. They help you relax no matter where you are and how stressed you feel. We all need to learn how to de-stress quickly and make frequent relaxation moments a life-sustaining habit. To get you started, please refer to a small selection of Mini-Retreats available on my website.
With the help of a Mini-Retreat you can now take a fresh look at your situation. From this vantage point you may gain greater insights as to what course of action or inaction would serve you and everyone else best.
Feeling stressed literally narrows your perspective and allows you to perceive only a small part of reality. Taking a Mini-Retreat helps widen your perspective. It's as if you take off the invisible blinders you are wearing. It allows you to perceive the whole spectrum of choice and helps you make better decisions. Enjoy!
For more information on hosting a Mini-Retreat Home Party, feel free to give me a call at 1-888-234-3814.
When we feel joy, we feel most alive! When you notice the small things that bring you joy and consciously create and receive moments of joy in your daily life, your experience of life will change for the better.
Jacqueline Kelm, fellow-author and coach, has developed an easy 3-step process to achieve just that. In her book, The Joy of Appreciative Living, Kelm shares her personal story and the success stories of the participants of her "joy study".  An engineer by training, Jackie shares her research of joy and happiness and backs her personal discoveries and the results of her joy study with the newest scientific discoveries in the field of positive psychology.
She addresses the misconceptions that keep so many of us chasing happiness in all the wrong places. The Hollywood dream of the house by the ocean, the new shiny car and the diamond ring don't compare with the simple treasures in life. A smile exchanged on the sidewalk with a stranger, laughter shared with friends, smelling the fresh air after a rainstorm, to name just a few.
Kelm's honest and personal style make it easy for the reader to follow her guidance. I could feel the joy and enthusiasm for her work in every page. I loved reading the quotes from the study participants filled with gratitude for the difference the 3 steps to joy made in their lives. Here's one of my favourite quotes: "Doing the joy exercises is like the discipline of cleaning off your joy glasses. It doesn't take that much time to clean them off." Their lives have transformed for the better and they are experiencing a greater level of joy even 6 months after completing the 28-day commitment of following her 3 easy steps.
Once you have read The Joy of Appreciative Living you will naturally incorporate Jackie's 3 easy steps to joy:
1. Write down three things you appreciate every morning. As you write them down, let yourself feel the joy and gratitude.
2. Answer the daily question: "What one thing can I do today, no matter how small, to increase my joy?"
3. Once a week, spend fifteen minutes envisioning your ideal, joy-filled life.
Please share your experience with this simple, yet powerful technique on my blog.
Last weekend I had a chance to review all the moments I had captured with my camera over the last six months. What a joy to revisit so many wonderful memories!
I am deeply grateful for all the love in my life and the beautiful sanctuary I live in. This picture shows a special place on the shore just minutes away from my home. I go there often. Each time it brings me right back to what matters most.
Reflecting on my sanctuary, I realize that I have sought out special places in nature for renewal in all the places I have ever lived. Even in the bustling city of Paris, I managed to find a nearby park, where I could reconnect with myself and nature.
I encourage you to seek out a special place in your neighbourhood where you can go to refresh and renew yourself.
Enjoy!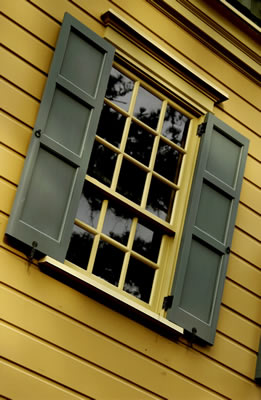 Last spring, a Robin flew against my window in the morning, luckily the Robin survived, but strangely he didn't learn from its painful experience. The Robin immediately flew against the window again and again and again. I was truly puzzled by this little bird's behaviour. I searched the Internet for the answer and found that Robins are very territorial birds.
When a Robin sees another Robin in its breeding or feeding territory, it instinctively attacks the other bird. My window acted as a mirror to the Robin. As the Robin saw his reflection, he interpreted this as an intruder and began attacking to chase the intruder away. The Robin's instinct to protect his territory was far greater than his pain memory.
As recommended on several websites, I put masking tape on the outside of the window, taking away the mirror effect for the bird. For the rest of the spring season the Robins around my home were safe. The phenomenon of head-bonking is also quite common in humans.
Most of us have situations that trigger us. Just like Robins we instinctively react to perceived threats only to notice minutes later that we have once again bonked our head and are feeling the painful consequences. Fortunately, once aware of our triggers, we can learn how to deal with anger more effectively. We can put up some metaphorical masking tape to help us stop bonking our heads.
How to Deal with Anger – A More Rewarding Way: 
Think of a situation or behaviour that makes you angry, aggressive, defensive or frustrated.
Once you are aware of the trigger, take a look at what you would most want in this situation. Do you want to be respected? Do you want to be left alone? Do you want to feel connected? Do you want to be understood or appreciated? Name and acknowledge what you most want to receive.
Give that which you most want to receive to yourself. Ask yourself a question, such as: "What would I do, if I really respected myself today?" Find as many answers to this question as possible and act on the most appealing one.
Decide how you want to respond next time you encounter the situation or behaviour that triggers you. Taking a Mini-Retreat is a great way to start!
If you forget in the heat of the moment, remember tomorrow is a new day and a new opportunity to stop bonking your head.
If a robin has chosen your backyard as his territory, you now know how to save him from bonking his head.